Chris Taylor, Saturday & Sunday afternoons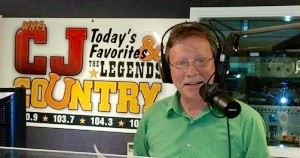 Chris' 20 years in radio include Batavia, Buffalo (WJYE, WBUF) & Rochester (WKLX, The River) and besides being behind the mic, he's worn numerous hats from operations to programming.  He's also worked in sales for TV stations WIVB, WNLO CW 23, WUTV Fox 29 & WNYO 49.  Chris brings great energy and sound to CJ Country on the weekends.
Zmax Racing Country, Saturday 10-noon
Over 20 years and still going strong, Racing Country's Paul & Cathy play the best selection of country music and original interviews straight from the NASCAR Garage and the Nashville recording studios. It's the fastest 2 hours on the radio.
Rise Up Country w/ John Ritter, Sunday 9-11am
When Radio Was, Sunday 8 to 10pm
Join Greg Bell Sunday nights at 8pm for 2 full  hours of Old Time Radio shows.
America's Opry Weekend, Sunday 10pm to Midnight
Tune  to CJ Country for America's Opry Weekend to hear performances by the new stars, superstars, and legends of country music!
In addition to high-quality, exclusive legendary live cuts from the Opry stage , America's Opry Weekend also features plenty of Today's Favorites. You'll also get behind-the scenes stories from backstage at the Opry, interviews with country's top artists, the latest news out of Nashville, and more.
Nationwide & Sprint Cup Racing
Catch flag to flag coverage, every weekend all season long on your station for fast cars & country stars